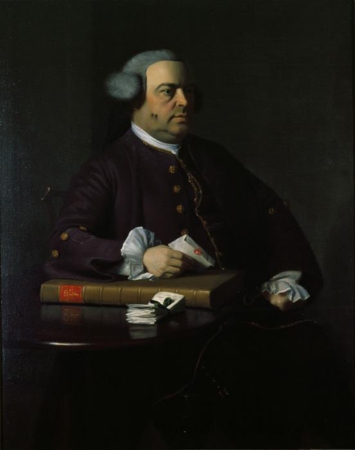 Object Title:
Nathaniel Allen
Date:
1763
Artist:
John Singleton Copley
Active:
American, 1738 - 1815
Medium:
Oil on canvas
Dimensions:
50 x 40 in. (127 x 101.6 cm)
Credit Line:
Purchase, Frank C. Atherton Memorial Fund, 1976 (4376.1)
Object Number:
4376.1
Description:
The skills responsible for John Singleton Copley's fame can be identified in this portrait of Nathaniel Allen. Boston's leading portrait painter before the Revolutionary War, Copley used precise realism to capture his subject's character. In this portrait of Allen, a successful merchant and respected citizen of Gloucester, Massachusetts, each object suggests the ability and confidence of the contemplative businessman. Copley emphasized the sitter's robustness to indicate his importance, while the ledger, documents, and opened letter demonstrate the merchant's hardworking attitudes. The two hairy moles on Allen's cheek reveal the extent of the artist's faithful realism. Copley painted some of the most famous figures in American colonial history, including Samuel Adams and Paul Revere.
---