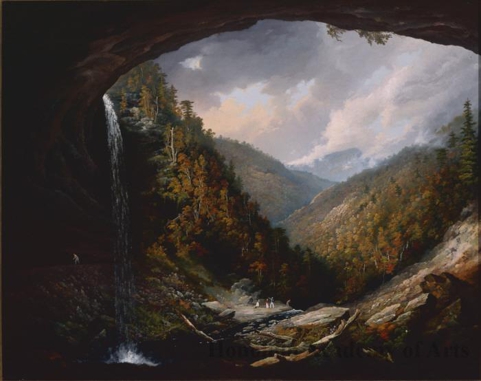 Object Title:
Kaaterskil Falls on the Catskill Mountains, Taken from Under the Cavern
Date:
c. 1827
Artist:
William Guy Wall
Active:
American, 1792 - 1864
Medium:
Oil on canvas
Dimensions:
37 1/2 x 47 in. (95.3 x 119.4 cm)
Credit Line:
Gift of The Mared Foundation, 1969 (3583.1)
Object Number:
3583.1
Description:
This view of Kaaterskill Falls represents an early example of a developing genre in nineteenth-century American art: images of the nation's natural scenery. The Catskill Mountains site depicted in this composition rivaled Niagara Falls as one of the most popular destinations for tourists and artists alike. William Guy Wall chose to position the viewer at the back of the cavern looking out, with the mouth of the rock formation framing the forested mountains that lay beyond. This tremendous arc of rock lends a dramatic effect to the painting, yet also remains true to the topography of the scene. The explorations of the five adventurers included in Wall's work represent firsthand experience of America's natural beauty, a nineteenth-century preoccupation seminal to the young country's development and identity.
---