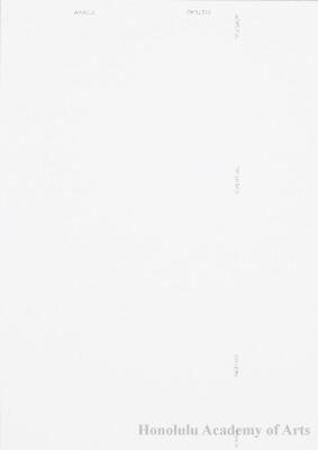 Object Title:
Untitled: Wall Piece
Date:
1978
Artist:
Robert Barry
Active:
American, born 1936
Medium:
Light grey felt tip pen on gallery wall
Dimensions:
11 5/8 x 8 1/4 in. (29.5 x 21 cm)
Credit Line:
Gift of the Dorothy and Herbert Vogel Collection: Fifty Works for Fifty States, a joint initiative of the Trustees of the Dorothy and Herbert Vogel Collection and the National Gallery of Art, with generous support from the National Endowment for the Arts and the Institute for Museum and Library Services, 2009
Object Number:
31510
Description:
Along with Douglas Huebler, Joseph Kosuth, Lawrence Weiner, and Sol LeWitt, Robert Barry is a pioneer of conceptual art. Conceptual art emerged in the 1960s in response to the critical status of painting and sculpture as forms legitimized by the criteria of their fabrication: surface, dimensions, and space. As a counterpoint to this unyielding emphasis on form—known as "formalism" and elaborated by influential art critic Clement Greenberg—conceptualism liquidated the object to locate art in its sustaining idea. Barry began his career as a painter, but he soon turned to intangibles—light, space, and language—which he manipulated in an exploration of art's philosophical underpinnings. His earliest works involved such performance-oriented projects as releasing invisible gas into the environment (Inert Gas Series, 1969), transmitting his inaudible thoughts (Telepathic Piece, 1969), and posting a sign on the door of an Amsterdam gallery proclaiming it closed for the duration of a scheduled exhibition of his work (Closed Gallery Piece, 1969). By 1974, Barry was merging art and language to create drawings and installations composed entirely of words, examples of which are on view in this gallery. Randomly selected and liberated from all context and syntax, these words are open to numerous readings, and it is up to the viewer to interpret—and "complete"—the sentences suggested in their placement. The Vogels knew Barry for years—as Dorothy Vogel put it, "we were sort of in the same circles"—before their first visit to his studio, in 1974. After that, they collected his work in all of its aspects, from wall drawings, to smaller word pieces, to the sole documentation for Closed Gallery Piece: the "Closed" sign itself, which Barry signed upon its purchase.
---