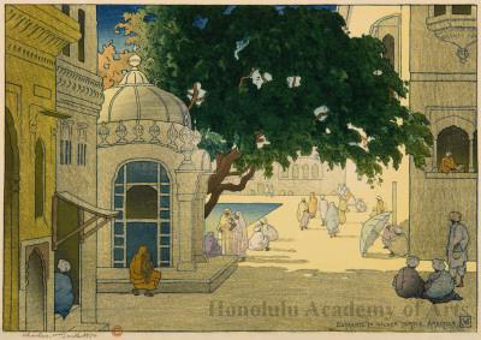 Object Title:
Entrance to Golden Temple. Amritsar.
Date:
c. 1919
Artist:
Charles W. Bartlett
Active:
British, 1860 - 1940
Medium:
Color woodblock print
Dimensions:
Image: 10 7/16 x 15 1/8 in. (26.5 x 38.4 cm) Sheet: 11 7/16 x 16 1/4 in. (29.1 x 41.3 cm)
Credit Line:
Gift of Anna Rice Cooke, 1927 (5394) Conservation treatment supported by David Dolan in honor of Rosalind Bartlett Schmidt and Joyce Tate Dolan White.
Object Number:
5394
Description:
Bartlett commented on this print "The warm sun of India gilds the precincts of the temple." Typical of Bartlett's images depicting the area around the Golden Temple, this composition does not show the temple itself, but focuses instead on the distinctive lighting and the human activity in its environs.
---