Event:
Anno Moyoco | Book signing and manga demonstration
Date:
February 22, 2015 10:30am-02:00pm
Location:
Honolulu Museum of Art
---
Event Information:
Part of programming related to Modern Love: 20th-Century Japanese Erotic Art
The internationally recognized Anno Moyoco (born 1971), artist and author of manga (Japanese graphic novels), will visit the Honolulu Museum of Art for a book signing, artist talk, and manga drawing demonstration.
Ms. Anno's critically acclaimed graphic novel Sakuran, which records the maturation of a courtesan in the Yoshiwara brothel district, is currently on display in the museum's exhibition Modern Love: 20th-Century Japanese Erotic Art (November 20, 2014 – March 15, 2015). Other works by the artist include Happy Mania, which spotlights the troublesome love lives of contemporary Japanese women, and In Clothes Called Fat, which tracks a young lady's struggle with bulimia.
Schedule for Sunday, February 22nd:
10:30–10:45 am:
Book signing
Doris Duke Theater
10:45 am–11:45 noon:
Artist's talk
Doris Duke Theater
11:45 am-12:00 noon
Book signing (continued)
Doris Duke Theater
1:00–2:00 pm:
Manga drawing demonstration
Honolulu Museum of Art School, Room 200
Admission to all events is free, but seating is limited.
In the Museum Shop:
Sakuran, $16.95
In Clothes Called Fat, $16.95
Insufficient Direction, $14.95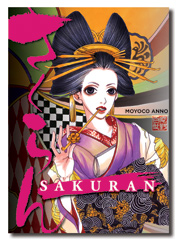 ---