Event:
Everybody Was Kung Fu Fighting
Date:
June 19, 2016 11:00am-05:00pm
Location:
Honolulu Museum of Art
---
Event Information:
Kids can see the exhibition Art in a Time of Chaos then try their hand at Ghengis Khan–era weapons and moves with the Khanate of the Golden Horde and watch kung fu demonstrations by Still and Moving Center instructors.
ART ACTIVITIES
• Go medieval: Try your hand at archery on the front lawn with Khanate of the Golden Horde: 11am-2:30pm
• Make a print: Create rubbings inspired by the Art in the Time of Chaos exhibition.
• Drawing Contest: Kids under 17 are encouraged to enter! The museum gives contestants a theme and drawing supplies. The winner receives a Supporting Membership to the Honolulu Museum of Art ($100 value), and his or her artwork is used to create the following month's event brochure and is posted on the museum's website.
ENTERTAINMENT
• Kung fu and self-defense demonstrations led by teachers from The Still and Moving Center: 11am-1:30pm
• 11:30am-noon: Self-defense demo
• Noon-12:30pm: Kung fu demo
• 12:30-1pm: Self-defense demo
• 1-1:30pm: Kung fu demo
• See ancient combat techniques: Khanate of the Golden Horde demonstrates martial arts and weapons from a bygone era: 1:45-2:30pm
FAMILY FILM SUNDAY
Havoc in Heaven (大闹天宫)
Directed by Wan Laiming. 1965. China. 106 min. Chinese with English subtitles.
11:10am + 1pm | Free
DOUBLE THE FUN
Take a shuttle bus to the museum's free Family Day at Spalding House in Makiki Heights to see the Plastic Fantastic? exhibition.
DRAWING CONTEST WINNER
Congratulations to this month's winner: Alexandra Win-Tsuen Chan Schmidt.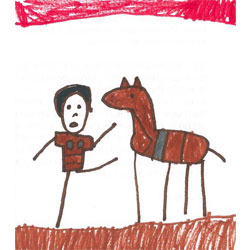 ---