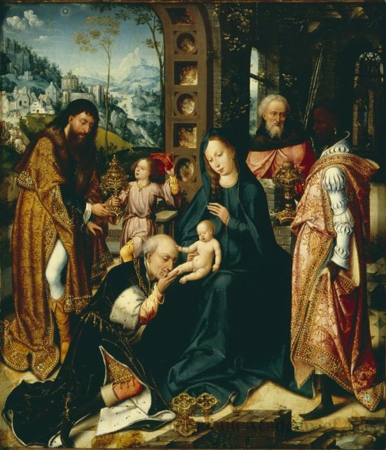 Object Title:
The Adoration of the Magi
Date:
early 16th century
Medium:
Oil on wood panel
Dimensions:
32 1/16 x 27 5/8 x 1/4 in. (81.4 x 70.2 x 0.7 cm)
Credit Line:
Purchase, Acquisition Fund, funds given in memory of Mrs. Richard A. Cooke, Alyce Hoogs, Wilhelmina Tenney, and Douglas Damon, the bequest of Alyce Hoogs, and contributions by the Charles M. and Anna C. Cooke Trust, Mrs. Robert P. Griffing, Jr., Robert Allerton, and John Gregg Allerton, 1963 (3103.1)
Object Number:
3103.1
Description:
Although many 16th-century paintings have survived the passage of time, the specific identity of the artists responsible for them often remains obscure. A body of recognizable works, which includes this richly detailed biblical subject, is given to the hand of the Master of 1518, a date inscribed on his large retable in Lübeck. Like many of his contemporaries, the Master of 1518 was concerned with recreating the physical appearance of the natural world. Here, he constructed a scene of high surface finish and invisible brushwork, rich with color, texture, and detail. Note the luxuriant costumes of exquisite brocade and other fabrics with elaborate gold and gemstone borders, reflecting the Flemish skill in the manufacture of beautiful textiles.
---