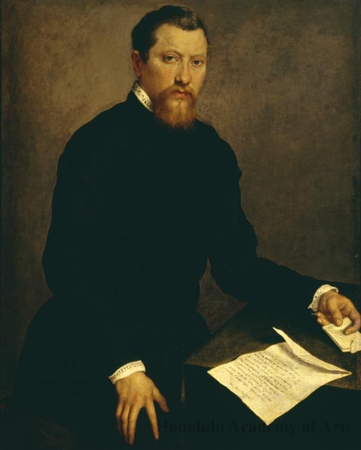 Object Title:
Portrait of a Man
Date:
1553
Artist:
Giovanni Battista Moroni
Active:
Italian, 1520 - 1578
Medium:
Oil on canvas mounted on wood panel
Dimensions:
40 1/2 x 32 3/16 x 5/8 in. (102.9 x 81.8 x 1.6 cm)
Credit Line:
Gift of the Samuel H. Kress Foundation, 1961 (2982.1)
Object Number:
2982.1
Description:
Moroni was one of the first Italian artists to specialize in portraiture. With a simple, direct style, he depicted persons from all walks of life caught in ordinary moments. This portrait-one of the earliest dated Moroni portraits known-is elegant in its anatomical elongation, sensitivity to hand gestures, and wonderfully nervous contours of the silhouetted figure. However, Moroni did not attempt to ennoble the sitter, as his clientele consisted of tailors, soldiers, magistrates, and other professionals to whom the contrived qualities of other portraits might seem inappropriate. Instead, Moroni developed an approach of understated naturalism, comfortable settings, individualized features, and sensitive candor. This man of letters gazes with uncomplicated dignity at the viewer.
---